Riz on Yonge Featured on Seriously Gluten-Free:

The 2015 ACCE Award of Merit goes to Bill Ha and Terry Wei of Riz North Restaurant:
Riz on Yonge (Riz North)
3321 Yonge Street
Toronto, ON
M4N 2L9
416-322-6789
For Reservations Please Call Us.
Riz occasionally offers special All You Can Taste Menus:
We are extremely pleased to announce that Riz on Yonge has obtained the Gluten Free Food Service Certification (GFFS) from the Gluten Intolerance Group of North America (GIG) for 2015. This certification acknowledges our ongoing commitment, as a gluten free restaurant, to preparing the highest quality of CELIAC safe gluten free pan Asian cuisine.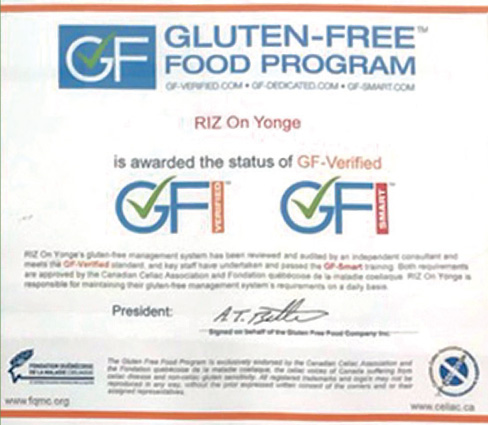 A proudly certified Toronto gluten free restaurant specializing in Japanese, Thai and Asian cuisine.
Contact us for  reservations and directions, we would love to show you what we have to offer!